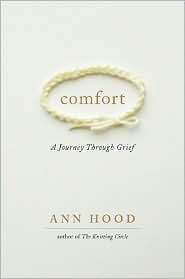 Last night I read "
Comfort
" by
Ann Hood
, it found me as so many great books do at
Barnes and Noble
. I am always amazed at the treasures I somehow find myself buying, it's as if I hear them calling me from the shelf "pick me... you need to read me". Not very often do I listen but when I do, man do I get lucky. This book is about the loss of Ann's 5 year old daughter Grace and her journey through the pain.
I got in bed and cracked the spine open on my new book. I had only meant to read a chapter or two before falling asleep but after the 1st page I knew it was going to be a long night. By the second page I was already crying and continued to do so for the next 182 pages! Seriously! Sometimes it was just a silent tear rolling down my check and other times I was a full on sobbing mess. I'm talking the kind of crying where you can't breathe and you struggle to see the words through your tears. Next to me while I read a feel my sleeping boy, I can feel his little body sweating next to me and I occasionally pause from the story to look at him and listen to him breathing.
I have a confession to make, I do that a lot, check to see if he's breathing. This may be a normal mom thing, I don't know
because
I've
never talked to anyone about it, but since the day chase was born I've always had that almost painful fear of something happening to him.
Because
of this fear I keep him close, not the crazy super protective mom close , but the check on you in the middle of the night to make sure your breathing type of mom! Sometimes I scare myself just thinking of all the what
ifs
. As horrible as this may sound when I lost Sydney I had thoughts of "phew now Chase is even more safe" God would never take two of my babies right? It was almost as if I felt she was my one give and now that I gave her I would be safe from future loss. Of course I know logically that's not how it works. For added measure with every prayer, everyday, no matter what the subject, I always throw in my little" please keep Chase safe" plea.
It's amazing to me that I actually purchased and read this book given my own deep fear of losing my child. I am however so glad I did! Despite it being gut wrenching, the book was still very very good. As I finished it @ 3am only a mere 3 hours before I had to get up for work, I turned to the sleeping boy next to me, gave him some smooches, wrapped my arms around him and began my prayer...
" Lord thank you for all the many blessings you've given us. I pray for Ann and her family. I thank you for giving her comfort in the face of an unthinkable
tremendous
lose. I thank you for blessing her with Grace and I with Sydney, even if it was for such a short time. Thank you for this day lord... Please keep Chase safe, Please keep him safe... In your name I pray, Amen"